Show and Meetup Dates
We try to hold shows every few months and rent a hall to ensure the safety of animals and participants.
Join the Small Animal Village for our first ever, all inclusive Hamster Show - exclusively at The Canadian Pet Expo on September 8th!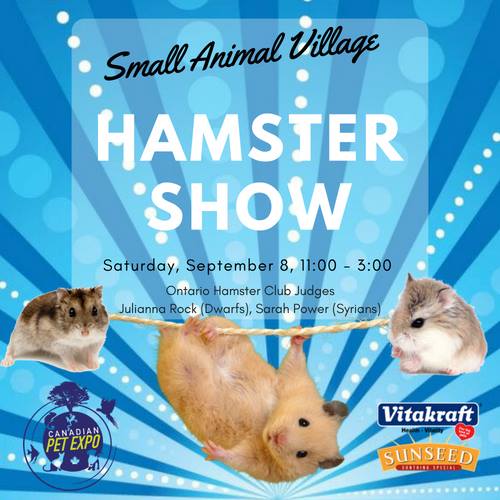 Entry fee per contest of $3 per hamster. Categories include:
Syrian (Short Coat)
Syrian (Long Coat)
Dwarf Hamsters
Does your hamster have what it takes to take home a "Best in Show" ribbon? Hamsters are judged firstly on their health, temperament, and their adherance to show standards.
We will post on this event page when online Registration opens on www.canadianpetexpo.ca. Like Canadian Pet Expo on Facebook and follow @canadianpetexpo, @ontariohamsters, and @canadiancavy on Instagram to stay informed.
Proceeds will go to Don Cherry's Pet Rescue Foundation.
Show Schedule
11:00 - 12:00 AM - Check in & Health checks
12:00 - 12:30 PM - Pet Class Judging
12:30 - 1:00 PM - Break
1:00 - 2:00 PM - Standards Judging
2:00 - 2:30 PM - Tallying of Results and Awards
2:30 - 3:00 PM - Discussion and Q&A